My name is Alicia Armeli and I am the creator of, Mangia Gioia!, a website dedicated to my vegan recipes, food photography, cooking videos and healthy-eating blog. I've always wanted to create my own food website because, as any true Sicilian-Cuban, I love to feed people! And what better way to feed everyone than to share my recipes and food experiences! Mangia, Gioia, in Sicilian dialect literally means, "Eat, my joy!" My grandfather used to say this to me, his joy, encouraging his grandchild to eat! And that is the message I want to spread to the world through my website! Originally I am from a small town in western New York. I grew up surrounded by food. The kitchen was a place for my family to get together and share, laugh, eat and enjoy each other's company. I have always been a healthy eater but about four and a half years ago I decided to adopt plant-based eating and made it my goal to make vegan food beautiful, delicious and above all fun! But it didn't stop there. I wanted to learn about food, breathe nutrition and absorb all I could in the field of dietetics. This was when I decided to attend graduate school for a master's degree in nutrition and whole foods dietetics. Being a self-proclaimed science geek and having breast cancer research experience at the Fred Hutchinson Cancer Research Center (FHCRC) as well as already having experience in the health field, I wanted to combine my passion for food, nutrition and science with my love of helping people. I packed my bags and moved to Seattle, Washington to attend graduate school at Bastyr University. I am now entering into my second year as a master of nutrition student.
Since my acceptance to Bastyr and trek across the country so many amazing things have happened. I am a firm believer in following one's dream no matter where it takes you, even if it's 3,000 miles away! Life has a funny way of giving us what we need, if we would just allow it to happen! I created my website in October of 2011 (we are approaching our 1 year anniversary!) and began working on new recipes. I met a talented food photographer, who has also become a very dear friend, Randi Dodson. We have worked so hard together to show the public just how beautiful plant-based food is! From tantalizingly sweet desserts or savory dinners to yumi-licious side dishes, Mangia Gioia!,
I have worked locally with Seattle businesses to create cooking videos and I have also worked abroad writing vegan recipes for environmental agencies around the globe. This past winter, I took part in a charity event to benefit Teen Feed, a local organization I have cooked for in the past that feeds local hungry Seattle youth. With my good friend, Ellie Freeman, our vegan Ginger-Infused Glazed Tempeh with Crisp Pear Ribbons won 2012 People's Choice Award.
I have been fortunate to cook vegan meals for amazing cancer patients at the Seattle Cancer Care Alliance House. Along with my FHCRC friends, we have cooked dinners and held Christmas parties for these wonderful people. This fall I will start a new project teaching patients what to eat during treatment along with cooking demonstrations and samples of my food.
I have met so many kind people who have positively impacted my life. Everyday I am thankful for the path I chose and the life I lead. As we speak, I am planning a trip to Bali through World Wide Opportunities on Organic Farms to live with a host family and work on an organic farm. The possibilities for spreading goodness are endless.
If you are ever wondering what to make for dinner, whether you are vegan or not (maybe you just need a Meatless Monday dish?), you are always welcome at Mangia, Gioia!
About Guest Blogger: Alicia Armeli, Mangia Gioia!
SAY HELLO…
My name is Alicia Armeli and I have an on-going love affair with food (who doesn't??). Growing up in a Sicilian-Cuban family definitely made food the centerpiece of my life and the kitchen a place for gathering together, laughing, storytelling and eating! But what is a girl to do when she fancies seitan over steak? Almond milk over dairy milk? Beets over burgers? She adapts–carefully and creatively. I have been vegan for almost 4 years now and I am always striving to make new dishes that are not only delicious and beautiful but also healthy. Essentially, my website, Mangia, Gioia! is the lovechild of ingenuity and my passion for food.
★ WEBSITE: www.mangiagioia
★ TWITTER: @mangiagioia
★ FACEBOOK: /mangia.gioia
Want more recipes or something more? Get your monthly vegan miam newsletter and receive exclusive Taiwanese and/or Asian recipes. Receive new posts by email, by RSS or bloglovin', and keep up with vegan miam on facebook, twitter, pinterest, instagram and google+.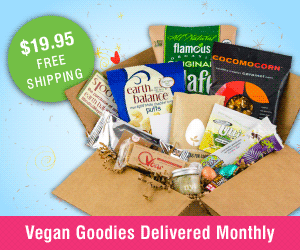 ---