★ Chef Pandita: Protein-Packed Chia Pudding ★
I am so happy to be guest posting here at
Vegan Miam
. My first idea for this post was a healthy, vegan, nutritious breakfast. People always say breakfast is the most important meal of the day, if you have busy mornings this is something you can make the night before and enjoy when you wake up.
Another thing that concerns people about vegan diet is protein intake. There is this misconception that protein equals meat and eggs but you will be surprised when I tell you how much protein is in this breakfast bowl.
Chia seeds are very popular now and so are hemp seeds [also called hemp hearts]. Both are plant-based protein sources which also happen to be rich in omega 3, rare antioxidants, vitamins, minerals and fiber. This breakfast bowl calls for 3 tablespoons chia [9g protein], 1 cup soy milk [7g protein] and 3 tablespoons of hemp seeds [10g protein]. If you do the math that's 26 grams of protein plus a gram or two from the berries. Comparing to a traditional breakfast of 2-3 eggs, it's a lot more [1 whole egg contains 6 grams of protein.]
Chia pudding with berries and hemp hearts:
1 cup unsweetened soy milk
3 tablespoons of chia seeds
Stevia [optional]
3 tablespoons of hemp hearts
Handful of strawberries and blueberries
1. Soak chia seeds in soy milk for at least 20 minutes or overnight. You can sweeten it with stevia right before serving.
2. Slice strawberries and place on top of chia pudding along with blueberries. I like berries because they are a good source of antioxidants but you can use any fruits you like.
3. Sprinkle hemp hearts on top and enjoy!
I also love chia seeds and hemp hearts sprinkled on fruit salads!
Thank you for reading, panda hugs!
About Guest Blogger: Yuri, Chef Pandita

Yuri is a sushi instructor and personal chef in Santo Domingo, Dominican Republic. Culinary school grad, soon to be sommelier and also studying to get certified in plant-based nutrition. Loves food, wine, pandas, gym and yoga.
BLOG: www.chefpandita.com
FACEBOOK: chefpanditaonFB
TWITTER: @chefpandita
INSTAGRAM: chefpandita
Want more recipes or something more? Get your monthly vegan miam newsletter and receive exclusive Taiwanese and/or Asian recipes. Receive new posts by email, by RSS or bloglovin', and keep up with vegan miam on facebook, twitter, pinterest, instagram and google+.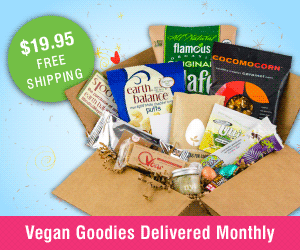 ---