★ Ms Cupcake – Brixton, London ★
WEBSITE:
www.mscupcake.co.uk
|
TWITTER:
@mscupcakeuk
|
FB:
facebook.com/Ms.CupcakeUK
Since moving to London just over a month ago numerous people have instantly recommended the cupcakes that can be found in Brixton at Ms Cupcake when they find out that I am vegan.
The small shop with one table can be found very easily from the station in an area full of food shops and foodies (many of them offering vegan cuisine). Despite the website saying 130 flavours were available there weren't many choices on display in comparison, yet it was still hard to choose between the huge and generously decorated cupcakes on offer.
I chose a red velvet, a jaffa, a triple chocolate and the incredible looking Forrero Rocher that looked like a larger version of the actual chocolate. Other flavours included cherry, cookies 'n' cream, chocolate vanilla split, mojito and key lime.
The staff were very friendly, cracking jokes and helping us to decide. They explained that Ms Cupcake offer cupcake decorating classes and were happy to let us take our time.
My friends and I sat down on the small outside seating area. I ate my Forrero Rocher cupcake and it was divine and absolutely huge; the icing cupcake ratio is pretty much 50:50.
I can see why my companions are regular visitors, if you have a sweet tooth – it's vegan heaven! So if you're ever in London – make sure you drop in.
About Guest Blogger: Hanna Cesek

Hanna is a recent convert to veganism after being vegetarian since she was six years old. This is her first blog post ever, but she tweets and posts regularly about veganism on Twitter and Pinterest.
Want more recipes or something more? Get your monthly vegan miam newsletter and receive exclusive Taiwanese and/or Asian recipes. Receive new posts by email, by RSS or bloglovin', and keep up with vegan miam on facebook, twitter, pinterest, instagram and google+.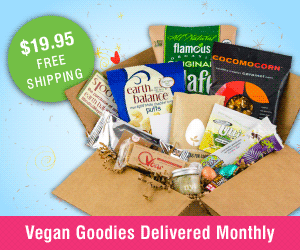 ---