★ The Snarky Chickpea: Vegan Pinto Tacos ★
There are few things in life that I like more than tacos!
I am constantly on the hunt for new ways to re-invent the tacos of my youth. I've made them with tempeh, TVP, lentils,chickpeas, black beans, vegan chicken and vegan steak. I thought I had reached the end of taco experimentation. I was wrong. I recently stopped at my local farmer's market and a vendor was selling
dried pinto beans
, so I bought some. I have trouble saying NO to beans of any sort (except green beans, which I find completely repulsive). So,anyway, I soaked them and cooked them up, and then felt inspired to add some seasonings and fresh guacamole. Then, I thought, "Why stop there?" From there, I added some fresh cilantro from the garden and some fresh corn from the farmer's market. Added it all into a flour tortilla shell and went wild! They were so absolutely delicious, that I ended up eating 3. It was fantastic!

The Guacamole
INGREDIENTS
1 extra large or 2 medium avocados, diced
juice from half a small lime
about 1/4 cup finely diced red onion
1-2 TB fresh cilantro
1 roma tomato, diced (I removed the seeds)
pinch of freshly ground cumin seed (I grind mine in a mortar and pestle)
pinch of sea salt if you'd like it
PREPARATION
1. Very carefully mix all the ingredients together in a bowl.
2. Cover and refrigerate while you make the tacos.

The Tacos
This recipe serves up about six tacos
INGREDIENTS
2 cups cooked whole pinto beans
kernels cut from 1 largish ear of corn
1/2 cup diced red onion
1 clove garlic, minced
1/2 tsp smoked paprika
1 tsp chili powder
1/4 tsp red pepper flakes
1/2 tsp fresh ground cumin
1 tsp olive (or other) cooking oil
taco shells/tortillas of your choice
PREPARATION
1. Heat a skillet over medium heat. Add the oil. Once hot, add the onions.
2. After cooking the onions for about 3-4 minutes, add the corn, garlic, beans and spices. Mix well and cook for a few minutes, until heated through.
3. Now, top your tortillas with the bean and corn taco mix and add the guacamole on top.
Dig in! They're so delicious!
About Guest Blogger: Meg, The Snarky Chickpea

I'm a sarcastic librarian who just happens to be a vegan food addict. When I'm not cooking, or thinking about food and cooking, I'm usually found reading giant stacks of books. I have a blast running my goofy food blog, The Snarky Chickpea, and love spending time being lazy with my hilarious husband and our amazing pup, Marley. You can find me on twitter as @ChikPeaz, where I randomly tweet about 3 main things: food, books and my dog.
Want more recipes or something more? Get your monthly vegan miam newsletter and receive exclusive Taiwanese and/or Asian recipes. Receive new posts by email, by RSS or bloglovin', and keep up with vegan miam on facebook, twitter, pinterest, instagram and google+.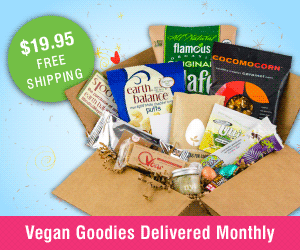 ---