Please welcome this fabulous friend of mine, Veronica from Sweden, who will be hosting a 5-day series on Vegan Miam, from Sept 25 to 29. Be sure to check out her post each day! X
★

Veronica Stenberg: I'm Feeling Just Peachy Juice

★
This is a great cleansing juice, that tastes so good, you don't even know you just put so much cleansing goodness into you. I always make a big jug of this juice. I love it!
YOU WILL NEED
• ¼ of a water melon
• 6 peaches
• 4 green apples
• 1 cm of ginger root (or more if you like!)
HOW TO
1. Juice everything
2. Serve in a beautiful glass and enjoy
About Guest Blogger: Veronica Vain
SAY HELLO…
Hello! Let me introduce myself! I'm Veronica, a globetrotting Swedish girl. With a passion for vegan food, digital creativity, art, beauty and alternative fashion. Well, I'm passionate about quite a lot of things actually. I became a vegetarian 16 years ago and transcended into veganism 4 years ago. I love preparing food and host parties for my friends. I'm really honored and grateful that I get to share a few of my favorite rand most popular recipes with you. I hope you will enjoy my posts and please stay in touch at:
★ WEBSITE: www.veronicastenberg.se
★ TWITTER: @VeronicaVain
★ MY DIGITAL MARKETING EBOOK: www.easy-digital-marketing.com
★ MY VEGAN BOOK PROJECT: www.veganskakokboken.se
Want more recipes or something more? Get your monthly vegan miam newsletter and receive exclusive Taiwanese and/or Asian recipes. Receive new posts by email, by RSS or bloglovin', and keep up with vegan miam on facebook, twitter, pinterest, instagram and google+.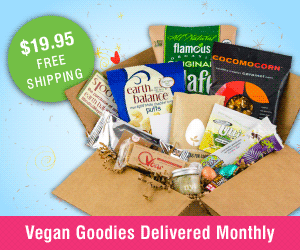 ---