Please welcome this fabulous friend of mine, Veronica from Sweden, who will be hosting a 5-day series on Vegan Miam, from Sept 25 to 29. Be sure to check out her post each day! X
★

Veronica Stenberg: Oven Roasted Veggies with Rocket Pesto

★
This is a recipe I do when I feel for something warm, and I'm a bit lazy. It's just so easy and foolproof. Besides, it also means I don't have to spend so much time cooking that day.
YOU WILL NEED
Depending on if you do a serving for 1 or more, I leave the quantities up to you.
• Sweet potatoes
• Mushrooms (I used oyster mushrooms)
• Onions
• Garlic
• Fennel
• Tomatoes
• Spices such as; oregano, sea salt, chilli powder
• Agave nectar or any vegan sweetener
FOR THE ROCKET PESTO
• 1 bag of rocket salad
• 1-2 garlic cloves
• 1-2 dl olive oil
• 1 tbs lemon juice
• sea salt
HOW TO DO THE VEGGIES
1. Chop your veggies and mushrooms in similar sizes.
2. Half the tomatoes.
3. Mix them in a bowl – add a dash of oil, add the honey or agave , add your spices, mix again.
4. Layer the vegetables flat and even on a oven tray – I use baking paper to avoid having to use more oil then necessary.
5. Cut the top of one, or more if you like, garlic bulb and add to the tray. Sprinkle ith some oil on top of the garlic bulbs.
6. Put the vegetables in a pre-heated oven, the oven should be 200 C.
7. The veggies will take – depending on their size and amount about 25-45 minutes before they are ready. During this time – make sure to stir them every now and then. Also keep an eye on them to ensure you don't burn them.
8. While the veggies are in the oven – this is the perfect moment to make your pesto.
HOW TO DO THE ROCKET PESTO
1. Get your food processor.
2. Add the bag of rocket to the processor, plus the garlic and some olive oil and all the lemon juice.
3. Mix it all together.
4. Taste – add some salt if necessary and some more oil and lemon –mix again .
5. Store in an air tight container.
6. When the veggies are ready, take them out. Serve the veggies with the pesto drizzled or dropped on top of your veggies.
About Guest Blogger: Veronica Vain
SAY HELLO…
Hello! Let me introduce myself! I'm Veronica, a globetrotting Swedish girl. With a passion for vegan food, digital creativity, art, beauty and alternative fashion. Well, I'm passionate about quite a lot of things actually. I became a vegetarian 16 years ago and transcended into veganism 4 years ago. I love preparing food and host parties for my friends. I'm really honored and grateful that I get to share a few of my favorite rand most popular recipes with you. I hope you will enjoy my posts and please stay in touch at:
★ WEBSITE: www.veronicastenberg.se
★ TWITTER: @VeronicaVain
★ MY DIGITAL MARKETING EBOOK: www.easy-digital-marketing.com
★ MY VEGAN BOOK PROJECT: www.veganskakokboken.se
Want more recipes or something more? Get your monthly vegan miam newsletter and receive exclusive Taiwanese and/or Asian recipes. Receive new posts by email, by RSS or bloglovin', and keep up with vegan miam on facebook, twitter, pinterest, instagram and google+.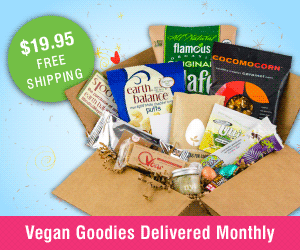 ---