Let's welcome my fabulous Swedish galfriend: Veronica. She will be doing a five-day series on Vegan Miam! Tack så mycket!
★ Veronica Stenberg: Sloppy yet Dense Chocolate Mini Cupcakes ★
This recipe makes about 24 small cupcakes. Perfect for an afternoon tea event with your friends.
CUPCAKE BATTER:
4 dl of flour
3 dl Muscovado sugar
3 tbs baking powder
2 tea spoons of vanilla sugar
50 grams dark chocolate – chopped up
2 tbs cacao powder
50 grams of vegan butter
2,5 dl oatly cream
1 tbs of fresh orange juice
0,5 teaspoon of cinnamon (optional)
HOW TO:
1. Mix all the dry ingredients in a bowl
2. Measure up your vegan butter and Muscovado sugar in a pan, gently heat it up so everything melts together and stir gently
3. Add the melted vegan butter and the sugar to the bowl with the dry ingredients, stir together
4. Add the juice, then a little by little the Oatly cream to the batter whilst stirring the batter. When you have a smooth but thick batter, stop stirring
5. Add the batter to your cupcake mould
6. Bake in a pre-heated oven for about 25 – 30 minutes in 200 C, watch every now and then.
7. Let the cupcakes cool off
8. Decorate with a vegan whipped cream substitute (I use Go Green) and gently sprinkle cacao powder on the top
About Guest Blogger: Veronica Stenberg

Hello! Let me introduce myself! I'm Veronica, an international Swedish girl with a passion for vegan food, digital creativity, food, art, beauty and alternative fashion. Well, I'm passionate about quite a lot of things actually. During my days I work as a project manager at a digital agency. During the nights I work on private projects such as illustrations, websites, or other creative and artsy thingies. But most of my time, right now – I am focusing on one thing, and that is writing and creating an eBook about digital marketing.
I'm really honored that I get to share a few of my favourite and most popular recipes with you. I hope you will enjoy my posts and please stay in touch at:
WEBSITE: www.veronicastenberg.se
TWITTER: @VeronicaVain
MY eBOOK: view here
MY VEGAN BOOK PROJECT: view here
Want more recipes or something more? Get your monthly vegan miam newsletter and receive exclusive Taiwanese and/or Asian recipes. Receive new posts by email, by RSS or bloglovin', and keep up with vegan miam on facebook, twitter, pinterest, instagram and google+.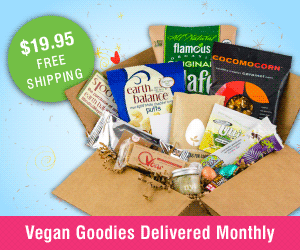 ---