This vegan and soy-free Ste Martaen Cheese's Muenster goes well with toast and any French-style bread. The Muenster cheese does not melt on my bread in the oven, but softens the cheese warmly and tasty.
★ INGREDIENTS + NUTRITIONALS: purified water, agar, organic cashews, nutritional yeast, lemon juice, tahini, sea salt, spices and citric acid
DISCLAIMER
This item was kindly sent to me to review by Ste Martaen Vegan Cheese. All products that are mentioned and reviewed here on my vegan blog are of my own personal opinions and I am not being compensated to review them, only just to share my thoughts. Any products mentioned here should be used at your own discretion and with caution. I only review cruelty-free and vegan products. If I receive a product complimentary of the company, it will be stated so in the post, otherwise, all products are purchased myself for my own personal use.
Want more recipes or something more? Get your monthly vegan miam newsletter and receive exclusive Taiwanese and/or Asian recipes. Receive new posts by email, by RSS or bloglovin', and keep up with vegan miam on facebook, twitter, pinterest, instagram and google+.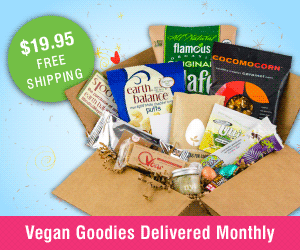 ---