This vegan and soy-free Ste Martaen Cheese's Pepper Jack mixes very well with the other vegan Colby cheese for vegan "nacho cheese" sauce adapted from Ste Martaen's Nacho Cheese Sauce recipe with a slight modification. The vegan pepper jack cheese wasn't as spicy as I had thought with the visible chili peppers, instead it tasted savoury and mildly peppery.
★ INGREDIENTS + NUTRITIONALS: purified water, agar, organic cashews, nutritional yeast, lemon juice, tahini, jalapeno and chili peppers, sea salt, spices, citric acid
Vegan Nacho Cheese Sauce
adapted from Ste Martaen's Nacho Cheese Sauce recipe with slight modification.
INGREDIENTS
8 teaspoons of minced garlic/garlic oil
2 green jalapenos, finely diced
2 green onions, diced
half of Ste Martaen Pepper jack, roughly chopped
half of Ste Martaen Colby, roughly chopped
2 tablespoons chili powder
2 teaspoons sea salt, add more to taste
1 tablespoon onion powder
1 1/2 cup of unsweetened coconut milk
1/2 tablespoon extra virgin olive oil for cooking
Cilantro and tomatoes, diced and chopped for garnish
PREPARATION
Heat 1/2 tablespoon extra virgin oil at medium in a medium saucepan. Add minced garlic, green onions and diced jalapeno. Saute for 2-3 minutes. Do not burn the garlic.
Add 3/4 cup unsweetened coconut milk and heat to near boil.
Add one half of the chopped cheese. Whisk until smooth.
Add 3/4 cup unsweetened coconut milk, add the last half of the cheese, whisk again until smooth.
Add all the spices (chili powder, sea salt, onion powder and chili flakes). Whisk again until smooth.
Keep the vegan nacho sauce at low heat to keep it runny. If you turned the heat off, it will be firm after 4-5 minutes. If firm again, re-heat it again at low heat, stir continuously until you get a runny nacho cheese.
DISCLAIMER
This item was kindly sent to me to review by Ste Martaen Vegan Cheese. All products that are mentioned and reviewed here on my vegan blog are of my own personal opinions and I am not being compensated to review them, only just to share my thoughts. Any products mentioned here should be used at your own discretion and with caution. I only review cruelty-free and vegan products. If I receive a product complimentary of the company, it will be stated so in the post, otherwise, all products are purchased myself for my own personal use.
Want more recipes or something more? Get your monthly vegan miam newsletter and receive exclusive Taiwanese and/or Asian recipes. Receive new posts by email, by RSS or bloglovin', and keep up with vegan miam on facebook, twitter, pinterest, instagram and google+.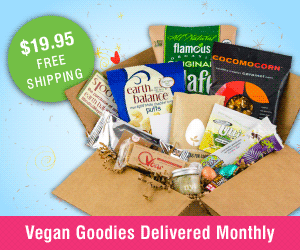 ---