HAPPY VEGAN PIZZA DAY!
I had the opportunity to try Galaxy Nutritional Foods' VEGAN Mexican-style shreds. I finally realized that these vegan Mexican-style shreds are perfect for pizzas, especially for the colours.
Rika + Doni's Beer Pizza Ingredients
INGREDIENTS
3 cups all-purpose flour
1 tablespoon olive oil
1 teaspoon fine sea salt
1 tablespoon Madhava Organic Agave Nectar – Light
1 1/2 ounces Fleischmann's Yeast (Active Dry)

3/4 cup warm water
1/4 cup your choice of beer
PREPARATION
Stir your choice of beer, yeast and warm water in a large bowl until dissolved. Add agave nectar, sea salt and olive oil. Slowly add 1 cup of flour at a time. Spread some flour on the board, knead the dough for a few minutes. Spray oil in the large bowl, and place the dough by covering with a towel. Let rise in a warm place for an hour. If it's not warm enough, put it in the oven as low as 100 degrees F.
Rika's Mexican Pizza toppings
Dust generously under the dough with fine cornmeal on the pizza peel, then create your pizza shape. Spread with vegan re-fried beans like you would put tomato sauce on the pizza. Sprinkle Galaxy Nutritional Foods VEGAN Mexican-style shreds all over in one layer, make sure they don't reach the crust. Top the pizza with thinly sliced green jalapenos and sweet onions and chopped tomatoes and corn. Bake the whole pizza at 500 degrees F. Keep an eye out. For the less crusty type, do at least 8-10 minutes. For the crusty type, do at least 15 minutes. Choose your favourite vegan spicy tortilla chips (I use our favourite chips El Sabroso Original Salsitas, Spicy Salsa Tortilla Rounds) and place them in a zipped bag, crush them with a book. Sprinkle the crumbled chips all over the pizza, and garnish with sliced fresh avocados and cilantro.
Before the Oven
After the Oven
The Final Steps
Want more recipes or something more? Get your monthly vegan miam newsletter and receive exclusive Taiwanese and/or Asian recipes. Receive new posts by email, by RSS or bloglovin', and keep up with vegan miam on facebook, twitter, pinterest, instagram and google+.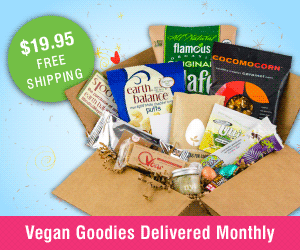 ---