I support cruelty-free, and exclusively vegan cosmetics lines and knowing that there aren't any harmful or animal by-product ingredients in mascaras and that these vegan mascara will keep my eyelashes as safe and healthy as possible.
Note: Some photos are taken by Doni, using Canon EF 300mm f/2.8L IS USM II Super Telephoto Lens
and Rika, using Canon EF 85mm f1.2L II USM Lens
.
All orders by HerbanLuxe are packaged in recyclable paper, magazines and books, that are used to cushion the cosmetic contents for safe transit to your destination. The cruelty-free vegan mascaras contain no parabens, phthalates or petrochemicals, and absolutely no animal by-products.
★ PRODUCT NAME: HerbanLuxe (Mascara)
★ SHOP WEBSITE: www.herbanluxe.etsy.com
★ TYPES: Waterproof Black, Superlash Black, Superlash Navy and Superlash Brown Vegan Mascaras
★ ABOUT: With Myra's great interest in baking and mixing ingredients, she started a makeup business featuring handmade cosmetics line in 2000, along with a guest appearance on Oprah in 2007, and later opened an Etsy shop in 2010. "We believe that every woman should have the opportunity to experience innovation, without sacrificing her budget" (HerbanLuxe Facebook). Her products consist of all handmade VEGAN lipsticks, VEGAN correctors, cake eyeshadow, mineral foundations, lip potions and some non-vegan lipsticks. Her VEGAN mascaras are "handmade mineral mascara formulas created using pro-vitamin B5 to define, condition, and strengthen lashes."
★ INGREDIENTS for VEGAN MASCARA: distilled water, vegetable glycerin, carnauba wax, hydrogenated jojoba wax, stearic acid flakes, jojoba gel, jojobamulose, vitamin e, pro-vitamin b5, black iron oxide, natapress (natapress is a natural plant derived preservative which is required for any product which contain water).
★ GENERAL VERDICT:
As HerbanLuxe says, "Mascara is a girl's best friend [...] It's great for contact wearers like myself and people with sensitive eyes." I do have sensitive and oily eyes and some regular mascaras stung my eyes completely.
But HerbanLuxe vegan mascaras did not bother my eyes that much: they make my lashes lightweight, natural, smudge-free, non clumping and still beautiful! I would consider these vegan mascaras as go-to-base coat or natural looking mascaras. They do not deliver pumped-up, glamourous or dramatic lashes at all. I love the fact that these vegan mascaras have see-through tubes, that way you can "see exactly how much product you have left and know when it's time to reorder."
The waterproof mascara was surprisingly waterproof and that reminds me to carry one whilst traveling abroad in a humid country (you will need an oily makeup remover or olive oil to remove that)!
AS A SIDE NOTE, apply your first coat of mascara, wait for it to fully dry for about 3-5 minutes and then use a lash comb to separate your lashes before applying the next coat. Repeat twice for thickness. I usually apply 3-4 coats of mascara to get the colour and thickness right despite my very thin Taiwanese eyelashes. The first coat may seem quite wet at first, but you will need some time to air dry it out after application. All mascaras should be replaced every 3 months.
As photographed below, in order: Superlash Navy, Superlash Brown, Waterproof Black and Superlash Black (Non-Waterproof).
★ Verdict:
This is the most popular vegan mascara on HerbanLuxe while many of us prefer to use mascara that stays intact for a longer period of time. To tell the difference between HerbanLuxe waterproof black and superlash black (non-waterproof), the waterproof black has more of a deep black charcoal with dark brown tones as the non-waterproof black has bit of a grey-black charcoal tone. As a side note, the waterproof black is darker than the HerbanLuxe Superlash Brown colour. This waterproof black mascara stays on without smearing, runny or smudging. After washing it with gentle soap, the mascara still stays on. You will need an oil-based makeup remover or any olive oil to remove it completely. This mascara is great for anyone wishes to use long-lasting one! I look forward to using it for my vegan travels in Asia where it gets very humid!
★ Verdict:
As mentioned above, Superlash Black is non-waterproof, and it has grey-black charcoal tones. This is great for daily use with a natural look. After few rounds of washing (soap), it is easily washed off. It is easy to wash the mascara off.
★ Verdict:
This is another colour of HerbanLuxe non-waterproof vegan mascara: Superlash Brown. Sometimes, people prefer softer tones such as brown as they do not wish them to be as harsh as the black mascara. The brown colour provides a more natural look for any beautiful eyes! After few rounds of washing (soap), it is easily washed off. It is easy to wash the mascara off.
★ Verdict:
This is my favourite colour for HerbanLuxe vegan mascaras: Navy! I love anything whimsical, different and unique to make my lashes stand out alone or emphasize my eye. After 2-3 coating, the navy blue pigmentation is fantastic. It is beautiful for any eye colours! It is a must to have a best vegan mascara in blue shade!
DISCLAIMER
This item(s) was kindly sent to me to review by HerbanLuxe. All products that are mentioned and reviewed here on my vegan blog are of my own personal opinions and I am not being compensated to review them, only just to share my thoughts. Any products mentioned here should be used at your own discretion and with caution. I only review cruelty-free and vegan products. If I receive a product complimentary of the company, it will be stated so in the post, otherwise, all products are purchased myself for my own personal use.
Want more recipes or something more? Get your monthly vegan miam newsletter and receive exclusive Taiwanese and/or Asian recipes. Receive new posts by email, by RSS or bloglovin', and keep up with vegan miam on facebook, twitter, pinterest, instagram and google+.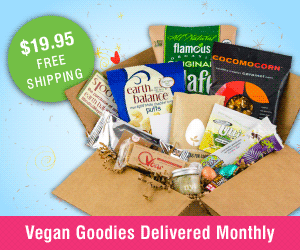 ---