Kelly & Mike, founders of Intrinsic Organics use only the best available raw, unprocessed, USDA certified organic ingredients in their products. It is important to find and use the best ingredients and ensure your skin is naturally healthy and nourished. Everything they make is scented with 100% pure essential oils, to give you an aromatherapy experience that is completely natural and good for the mind and body. Intrinsic Organics package their products in recyclable amber PET jars to protect the delicate essential oils and the environment, so remember to recycle. They hand-make everything in small batches right in their home to carefully control the quality and make sure everything you get is the very best it can be.
Intrinsic Organics currently carry 100 % VEGAN products that can be seen here.
I will be reviewing two 100% Vegan products: Rejuvenating Facial Oil and Lemon, Lavender & Chamomile Vegan Sugar Scrub.
★ PRODUCT NAME: Intrinsic Organics
★ WEBSITE: www.intrinsicorganics.com
★ ABOUT: A San Francisco-based small family owned company, Intrinsic Organics started in 2011. The company met their own strict consumer standards: they must be natural, organic, free of animal products & animal testing. Most importantly, they had to work! After a lot of frustrating experiences with products that contained sneaky chemicals, didn't do what they promised or were scarily over-priced, Founder and CEO of Intrinsic Organics, Kelly Villarreal threw in the towel on purchasing products and got busy on learning how to create her own. After a lot of frustrating mishaps, and one trip to the emergency room, things started coming together and requests for products from family & friends started pouring in. Intrinsic Organics was here, and here to stay! A few months later, when Kelly & Mike learned that there would soon be a baby in the family, it became more important than ever to keep chemically laden, preservative-packed products out of the house in favor of more natural, eco-friendly alternatives. With all the importance we place on eating healthy, organic foods, it just didn't make sense to keep lathering chemicals on their largest organ-the skin!
Oy, this is my first time to film something like this (I have no knowledge in creating videos), but any tips or advises would be great!
This is my first time to encounter a vegan sugar scrub with organic fair trade sugar, raw shea butter, and organic & essential oils. My first scent was mostly lavender, or a calming floral aroma with a bit of lemon scent, unfortunately not so much from the chamomile. However, chamomile also melts your tensions away. After application, my skin felt very moisturised, silky and very smooth due to the raw shea butter and organic olive oil. I tried the vegan body scrub during a warm shower, on a daily basis and my body skin felt very smooth. I would recommend it for dry, chapped skin, especially during the wintery days. No comment on the humidity just yet, I can imagine it will help hydrate dry skin from being in the sun. Intrinsic Organics' vegan scrub is a very relaxing body exfoliator.
★ INGREDIENTS: Organic Cane Sugar, Organic Shea Butter, Organic Olive Oil, Organic Sweet Almond Oil and Essential Oil Blend
Oy, this is my first time to film something like this (I have no knowledge in creating videos), but any tips or advises would be great!
Intrinsic Organics' Rejuvenating Facial Oil normally come in 2 oz jars. I received it in 1 oz recyclable amber PET jar which is pretty decent for air travel. The scent is a bit similar like the vegan body scrub I tried (as reviewed above): lavender. I could smell the lavender very well due to the natural lavender oil. The facial oil contains organic hemp seed and sweet almond oil. It is a very simple application, and not too messy for me. I used it at night, because my face is naturally oily (unfortunately). My skin felt very soft without any redness or reaction after application without smelling overwhelming. No comments on the humidity yet. I love the fact that it's 100% natural, organic, chemical and preservative free, knowing that you have a healthy moisturiser on your skin.
★ INGREDIENTS: Organic Argan, Hemp Seed and Sweet Almond Oils, Essential Oils
DISCLAIMER
This item(s) was kindly sent to me to review by Intrinsic Organics. All products that are mentioned and reviewed here on my vegan blog are of my own personal opinions and I am not being compensated to review them, only just to share my thoughts. Any products mentioned here should be used at your own discretion and with caution. I only review cruelty-free and vegan products. I will not review any products that I don't love. If I receive a product complimentary of the company, it will be stated so in the post, otherwise, all products are purchased myself for my own personal use.
Want more recipes or something more? Get your monthly vegan miam newsletter and receive exclusive Taiwanese and/or Asian recipes. Receive new posts by email, by RSS or bloglovin', and keep up with vegan miam on facebook, twitter, pinterest, instagram and google+.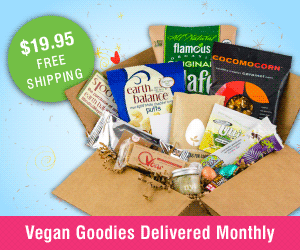 ---