I would like to introduce a vegan and gluten-free jerky, but it's made from prickly pear cactus. I recalled having stewed cactus during my visit in Mexico City, but this Cactus Jerky is completely new to me!
★ PRODUCT NAME: Cactus Jerky
★ WEBSITE: www.cactusjerky.com
★ TYPES: Tamari and Hot + Spicy
★ ABOUT: Cactus Jerky is made from a prickly pear cactus, which is also known as "tuna, nopal or nopales, from the Nahuatl word nōpalli for the pads, or nostle, from the Nahuatl word nōchtli for the fruit; or paddle cactus." (Wikipedia, Opuntia) The jerky is vegan, gluten-free, kosher, 99% fat free, non-GMO (non-genetically modified organism) and has long shelf life. Cactus Jerky comes in two flavours: Tamari (Wheat-Free) and Hot + Spicy. According to Cactus Jerky website, "they support the environment by utilizing organic and sustainable agriculture methods. They support their workers and their economy by providing above average wages, health benefits & bonuses."
I could smell tamari, besides it is wheat-free. I would recommend it for anyone with a sweet and savoury palate while the other spicy flavour may be appealing to ones who prefer a lovely heat. It resembles a dried fruit texture such as mango, instead it is savoury and dark in colour. It is difficult to bite the cactus jerky off: I usually suck on it and the jerky will soften it up for me to chew it off. Whilst sucking on the jerky, I could taste the agave sweetness from the prickly cactus. It is a long-lasting snack in a good way for me to suppress appetite.
★ INGREDIENTS: Organic Cactus, Organic Wheat Free Tamari, Organic Evaporated Cane Juice, Organic Agave Nectar, Fresh Onion, Fresh Garlic. ALLERGENS: Contains soy
The Hot & Spicy cactus jerky has similar ingredients as the Tamari, except for dried chili which was embedded in the jerky. As pictured on the left, you could easily see dried chili on it. That's how you can tell these cactus jerkies apart. For anyone who wants flavoured heat, this is the one to try. A personal favourite of mine, it is surely a yummy spicy cactus jerky: you could taste the savoury texture of the cactus, and feel the grand heat in the back of your throat. Although, I would like to point out only one suggestion to Cactus Jerky: it would be awesome to package them in resealable bag since I feel the urgency to finish them in a day
★ INGREDIENTS: Organic Cactus, Organic Wheat Free Tamari, Organic Evaporated Cane Juice, Organic Agave Nectar, Fresh Onion, Fresh Garlic, Dried Chili. ALLERGENS: Contains soy
DISCLAIMER
This item(s) was kindly sent to me to review by Cactus Jerky, Inc.. All products that are mentioned and reviewed here on my vegan blog are of my own personal opinions and I am not being compensated to review them, only just to share my thoughts. Any products mentioned here should be used at your own discretion and with caution. I only review cruelty-free and vegan products. I will not review any products that I don't love. If I receive a product complimentary of the company, it will be stated so in the post, otherwise, all products are purchased myself for my own personal use.
Want more recipes or something more? Get your monthly vegan miam newsletter and receive exclusive Taiwanese and/or Asian recipes. Receive new posts by email, by RSS or bloglovin', and keep up with vegan miam on facebook, twitter, pinterest, instagram and google+.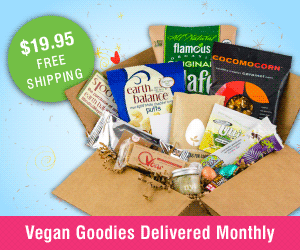 ---