If you are looking for a memorable and VEGAN British-style curry sauce on hearty potato dishes such as fries or hash browns, I highly recommend START! Original Hot Curry Sauce.
★ PRODUCT NAME: START! Original Hot Curry Sauce
★ WEBSITE: www.hotcurrysauce.com
★ ABOUT: Based in Lancaster, PA, START! Original Curry Hot Sauce is a VEGAN-certified from Vegan Action and GLUTEN-FREE hot sauce on anything from burritos, pizzas, noodles, beverage spicer, and so much more. This hot sauce is a blend of 12 traditional curry spices with low sodium and NO sugar, oil, preservatives or MSG.
★ INGREDIENTS: Water, Vinegar, Red Pepper Powder, Curry Powder (spices, red chillies, salt, tumeric, ginger powder, onion powder, garlic powder), salt, Xanthan Gum (natural stabilizer).
★ GENERAL VERDICT:
The packaging looks simple and clean with the red words, but I would like to have the words, GLUTEN-FREE and VEGAN in front of the packaging. Seeing an ordinary hot curry sauce with LOW SODIUM was indeed eye-catching, especially for consumers who wish to reduce salt/sodium in their diet. When I opened the START! Original Hot Curry Sauce, the smell reminded me of a Chinese sour plum infused with variety of spices. After a couple of tastes, it wasn't as spicy as I thought. You could taste the blend of flavoured curry spices on your taste buds, but the sauce provides a gentle heat in the back of your throat. Most hot sauces are generally spicy and you could not taste the ingredients because of the grand heat, however START! Original Curry Sauce still provides a beautiful full-of-spice flavour and gives you the comfortable heat in the end.
START! Original Curry Sauce is great on my vegan hash brown omelet and a Mexican leftover pizza. Yum! I'm not too big with the curry sauce on rice or noodles, but definitely potato-related or "starchy" dishes.
Vegan Hash Brown Omelet
shredded hash browns, homemade salsa, Daiya cheese, chopped green onions + stripped Tofurky slices
DISCLAIMER
This item was kindly sent to me to review by START! Original Hot Curry Sauce. All products that are mentioned and reviewed here on my vegan blog are of my own personal opinions and I am not being compensated to review them, only just to share my thoughts. Any products mentioned here should be used at your own discretion and with caution. I only review cruelty-free and vegan products. If I receive a product complimentary of the company, it will be stated so in the post, otherwise, all products are purchased myself for my own personal use.
Want more recipes or something more? Get your monthly vegan miam newsletter and receive exclusive Taiwanese and/or Asian recipes. Receive new posts by email, by RSS or bloglovin', and keep up with vegan miam on facebook, twitter, pinterest, instagram and google+.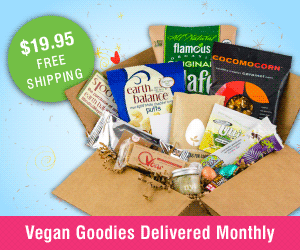 ---