I would like to introduce my complete iPhone gallery of some of the grocery products I've tried and ate in Mexico City for the whole month of April. Some of them are from The Green Corner, Sumesa, Superama or Oxxo convenience store, including food markets. If you have any questions in regards to the products or would like further information on products, please feel free to jot me a note at veganmiam (at) gmail.com.
You can see the following vegan-friendly products in Mexico City:
1. Sabritas Limon (Lime) Chips
2. Salsa Britas
3. Tortillas Del Jardin (Blue Corn Tortillas)
4. Sabori Chorizo Vegetariano (Vegetarian Chorizo)
5. Salsa La Abuela (There are a lot of varieties)
6. Tamal de Frijol
7. Tamal de Chocolate
8. That's what the tamales looked like.
9. Our typical meal consists of blue corn tortilla, vegetarian chorizo, avocado, lime juice and cilantro, which was pretty simple.
10. We love tortillas, limes and avocados.
11. Mucho Mexico, res en Salsa Verde. Some vegetarian faux crumbled meat.
12. Our typical meal consists of the Mucho Mexico crumbled meat, cilantro, avocado, salsa and lime juice. Very simple to make in the kitchen.
13. That's what Mucho Mexico crumbled meat looked like.
14. Another photo of our meal (taco)
15. Some asian products I like to eat. I try to avoid as much MSG as I can, but I miss Asian cuisine a lot.
16. HOLA! Smoothie (Strawberry-Banana)
17. Fritos corn chips (sometimes in lime flavor)
18. I really do not remember this one, probably a salsa.
19. My usual pasta with lemon pepper, avocado and lime juice. Super quick and easy.
20. Another photo of my quick pasta dish.
21. Salsa with Chocolate Tamale, Avocado and Cilantro
22. Birthday Oreo cookies
23. Lemon Creme Filling Cookies
24. That's the package of the Lemon Creme Filling cookies.
25. Vegetarian friendly ramen noodle pack I bought at an Asian grocery nearby.
26. That's what I had all the time.
27. Vegan Hamburguesa Meat
28. Sun Chips (Plantain, Chile)
29. That's what the plantain chips looked like (Sun Chips)
30. Glutinous Rice with Veggies (my usual meal in the kitchen)
31. Guayaba Juice
32. Organic and yummy raw chocolate sauce
33. Cinnamon coated cookies, they are super good!
34. My usual quick ramen noodle with dumplings. I had to have something Asian.
35. Vegan Banana muffin I picked up at some vegetarian shop
26. Toast with avocado and fried potatoes and chorizo
27. Tamarind
28. Almond Mazapan
29. Yummy Almond Mazapan
Want more recipes or something more? Get your monthly vegan miam newsletter and receive exclusive Taiwanese and/or Asian recipes. Receive new posts by email, by RSS or bloglovin', and keep up with vegan miam on facebook, twitter, pinterest, instagram and google+.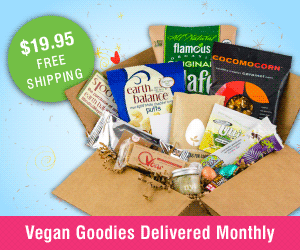 ---