In mid September, we dropped by Portland (PDX) for one day before our departure for SE Asia trip. It was nice to see Portland (PDX) again. We wanted to try something new in Portland, surprisingly Living Room Theaters features a couple of vegan dishes such as a vegan pizza, sweet potato fries, or even a veggie sushi hand roll. Living Room Theaters is an environmentally-friendly urban living room, café and cinema in Portland, Oregon.
Lychee Classic Cocktail
The lychee classic cocktail contains vodka, Soho lychee liqueur and lychee purée, but it also includes a canned lychee. The cocktail reminds me of a lychee martini with a bit of sweet tones from the lychee liqueur and purée. I ended up gobbling up the lychee before it was completely soaked with vodka. As a side note, my vegan nail polish is by Lime Crime.
Sweet Potato Fries
It was a decent portion of these yummy, savoury sweet potato fries. Huge chunks, but decadent as a salty snack. Not too crunchy, but good "french fries" texture. Love the strong orange pigmentation on these sweet potato fries and these fries come with a ketchup which could be either be freshly made or it was just a decent ketchup. You could tell the difference between a processed ketchup and a fresh ketchup. Not bad for $3.50. Managed to share these fries with two other individuals, and I felt tad full.
Veggie Sushi Hand Roll
This is one of their vegan tapas selections. The $8 veggie sushi hand roll contains enoki mushrooms, radish sprouts, avocado and seasoned rice rolled in toasted Nori seaweed and served with sesame cucumber salad. It was an interesting sushi hand roll, I could taste a bit of heat and sesame oil from the sushi. I never thought about having enoki mushrooms and radish sprouts in my sushi roll, but it was a good combination. The seasoned rice was a bit overcooked, but it was still edible and enjoyable at the same time (better than being just dry).
✚ View other posts on vegan eats in Oregon.
Want more recipes or something more? Get your monthly vegan miam newsletter and receive exclusive Taiwanese and/or Asian recipes. Receive new posts by email, by RSS or bloglovin', and keep up with vegan miam on facebook, twitter, pinterest, instagram and google+.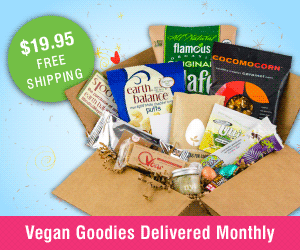 ---